Cleaning shimp can be a real pain. Sure there are lots of great techniques to help it go by faster but there are also great tools that you can use for every step of the shrimp preparation process, and even help with stuffing, slicing, deveining, shelling and more.  Here are a few:
Shrimp Deveiner
Make the unenviable job of deveining shrimp easy with the High Tailer.  Simply squeeze, and the stainless steel end does the work. Durable nonslip handles. Toprack dishwasher safe.
$4.99 at Cabelas.com
Off with their heads!
This powerful, multipurpose kitchen tool is ruggedly designed for effortless cutting and fully forged from surgical stainless-steel. Full metal construction and sleek curved blade is extremely sharp and powerful enough to cut through poultry with precision and ease. The lower blade features grip-enhancing serrations and a powerful, bone-cracking notch. They're also great for cutting through lobster shells or removing shrimp shells. A handy safety latch keeps the shears closed for safe storage. Hand washing is recommended.
$39.95 at Chef's Catalog
There's only one way to fry a shrimp!
Fried shirmp, popcorn shrimp, coconut shrimp, shrimp tempura, the list goes on and one. What you can do to shrimp with this handy fryer!
Exterior Basket Handle Lowers Food Into Oil with The Cover Closed To Prevent Spattering

Adjustable Thermostat


Removable Air Filter Absorbs Frying Odors, Replaces Easily

Removable Pot for Quick And Easy Cleaning

Extra Large Viewing Window

With Handy Indicator Light
$60 at Home Improvement Superstore
Steamers!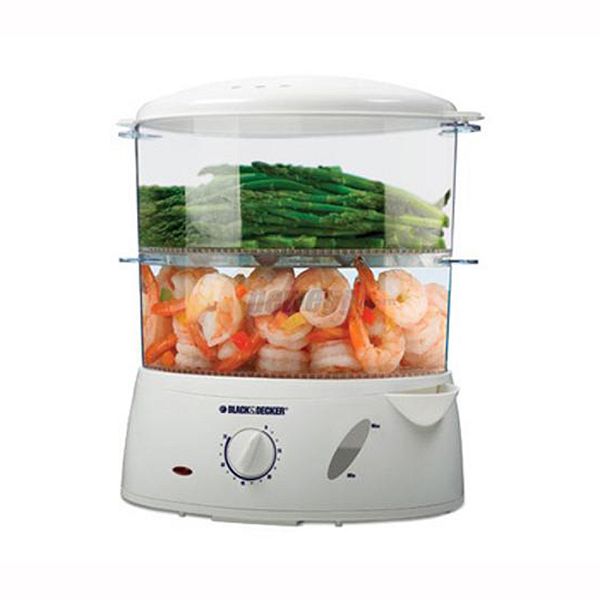 Don't mess around with big pots when you are dealing with smaller portions.  Steam up raw or cooked shrimp and sprinkle on old bay in the process for a classic dish.  Or steam them with fresh lemons and citrus for infused flavors.  A steamer is a must have kitchen appliance for any shellfish enthusiast!
Designed for easy steaming. External water-fill inlet is ideal for easily adding water anytime and handy water window lets you see water level at any time. Large-capacity steam basket gives you flexibility and versatility to cook a wide selection of foods.
$32 at Sears